Although therapy is at the heart of our business, The Shoreline Therapy Center is much more than that. We believe in being an active participant in our community at large. As a result, we have a highly-regarded Internship program for those who are pursuing graduate degrees, a Community Clinic and are available for speaking engagements, consultations and a variety of community engagement programs.
The Shoreline Therapist Training Center
As one of the leading clinics practicing a systems-based approach to therapy, The Shoreline Therapy Center runs one of the leading development programs to train interns and those with associate licenses (LMSW, LMFTA, LPCA). Our Therapist Training Program is highly selective and all of our candidates have expressed a desire to work with children, adolescents, families and adults.
Our program is managed through our relationships with various universities and graduate programs throughout our region and is connected with our community clinic. Participants will be highly supervised by trained clinicians with substantial experience working with complex systems and cases. Each participant will receive high levels of mentoring and guidance to help them become better clinicians.
Therapist Training Center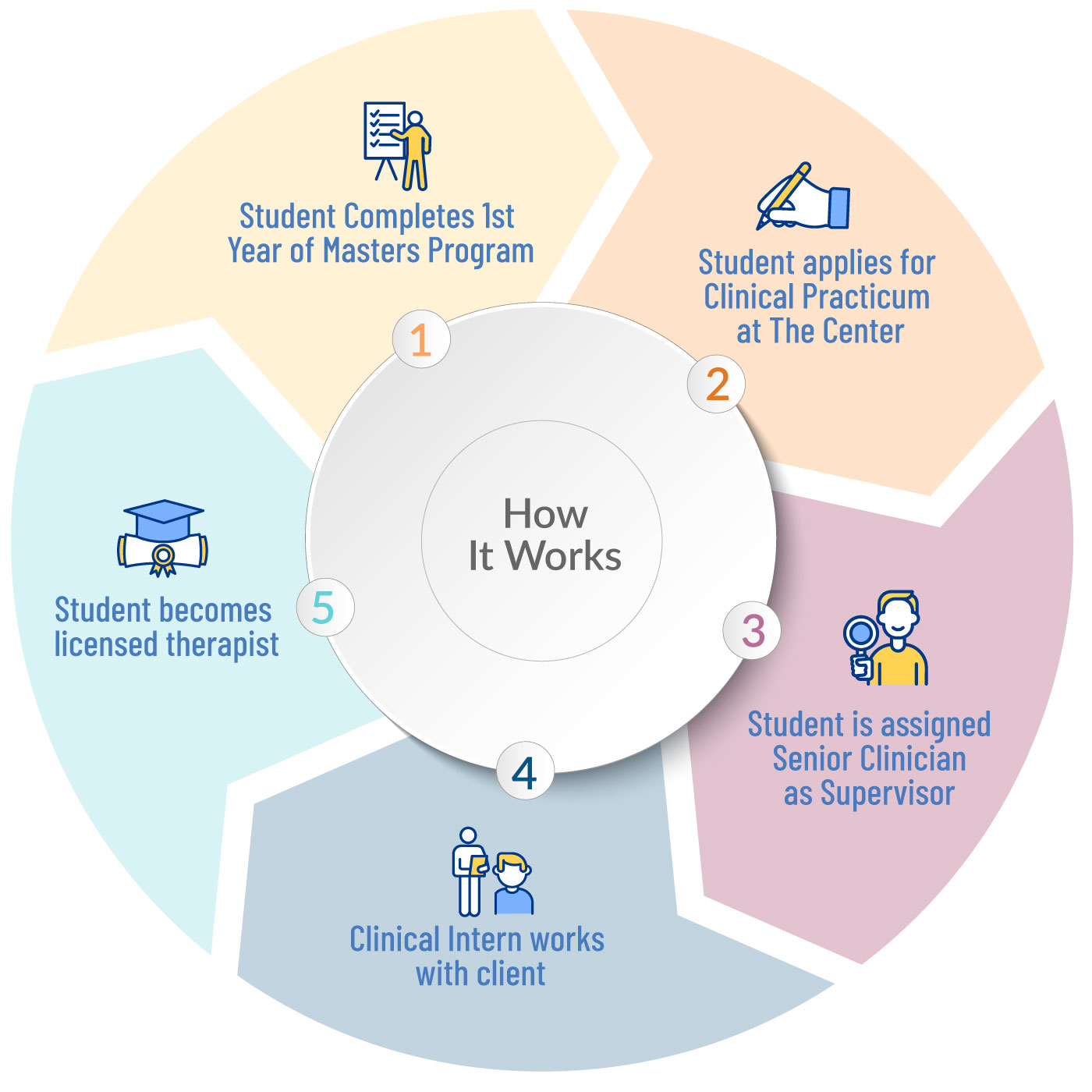 The Connections Development program operates through a Community Clinic, a clinic we have set up where individuals can receive outpatient therapy from our highly supervised interns and associate clinicians.
Each participant is assigned a client(s) and meets regularly with them at the Shoreline facility.
Each clinician will have their sessions monitored by licensed clinicians where they can receive feedback in real time.
The participant meets with their supervisor(s) twice a week in both group and individual settings. During these supervisory sessions, participants are encouraged to collaborate on their cases, receive feedback from various perspectives, and engage in a self assessment of the therapist model. Over time, this process allows the intern to develop a level of confidence and comfort with our model of therapy.
We also visit the concept of co-facilitated sessions, where two or more therapists conduct a session with the client simultaneously. We find that this co-facilitated approach can help foster a more robust therapeutic process and can be highly valuable in the development of clinicians.
The objective of the program is to help clinicians develop and hone their overall therapeutic skills as well as to fulfill their licensure requirements.
At the conclusion of the one-year internship, many of our interns have not only earned their licenses but have accepted employment at The Shoreline Therapy Center, itself.
Who Qualifies for the Program?
This program is open to all interns in graduate programs and those with associate licenses (LMSW, LMFTA, LPCA). We anticipate having one to three interns per season and they will each have multiple client and supervisory sessions per week. We will assure that interns receive the necessary hours each week to fulfill their credit requirements.
To learn more about the Connections Development Program, please contact us.

Research and Evaluation
The Shoreline Therapy Center has a research department which is responsible for scanning the relevant literature to assure that we are utilizing evidence-based state-of-the-art practices. Also we will be implementing our own clinical research program to provide evidence-based support on our collective practices.
Speakers
The Shoreline Therapy Center can readily provide expert speakers for parents groups, school groups and other professional organizations. We are happy to speak about our C-FIT model of care and our Connections program as well as any of the other conditions we treat.
Workshops
Within the coming months we will be conducting workshops on a wide variety of relevant topics including Crisis Consultation, Executive Functioning, Continuing Education for Therapists and Family Systems among others. These workshops are intended for parents, teachers, counselors, therapists and other interested parties. We can also conduct workshops tailored to any of our areas of expertise (Family Systems, Behavioral Issues, School-Related Issues, Anxiety, Depression, Trauma, Autism Spectrum Disorder, Neuroplasticity, ADHD). If you're a member of an organization that would like to have a customized workshop developed for your group, please contact us.
Consultations
We can provide consulting services to any group or organization which may be dealing with some of the issues discussed throughout this website. We can consult with businesses, parents, teachers and families, among others. We will help you examine your issue from our own unique perspective(s) and discuss how our methodologies may help.
Community Engagement
We will be conducting some workshops and programs for the general community in our vicinity. Please visit this website over the coming months to find out more.